Daluyon Beach and Mountain Resort hosts pop-up feast
Kindly go to setting page and check the option "Place them manually"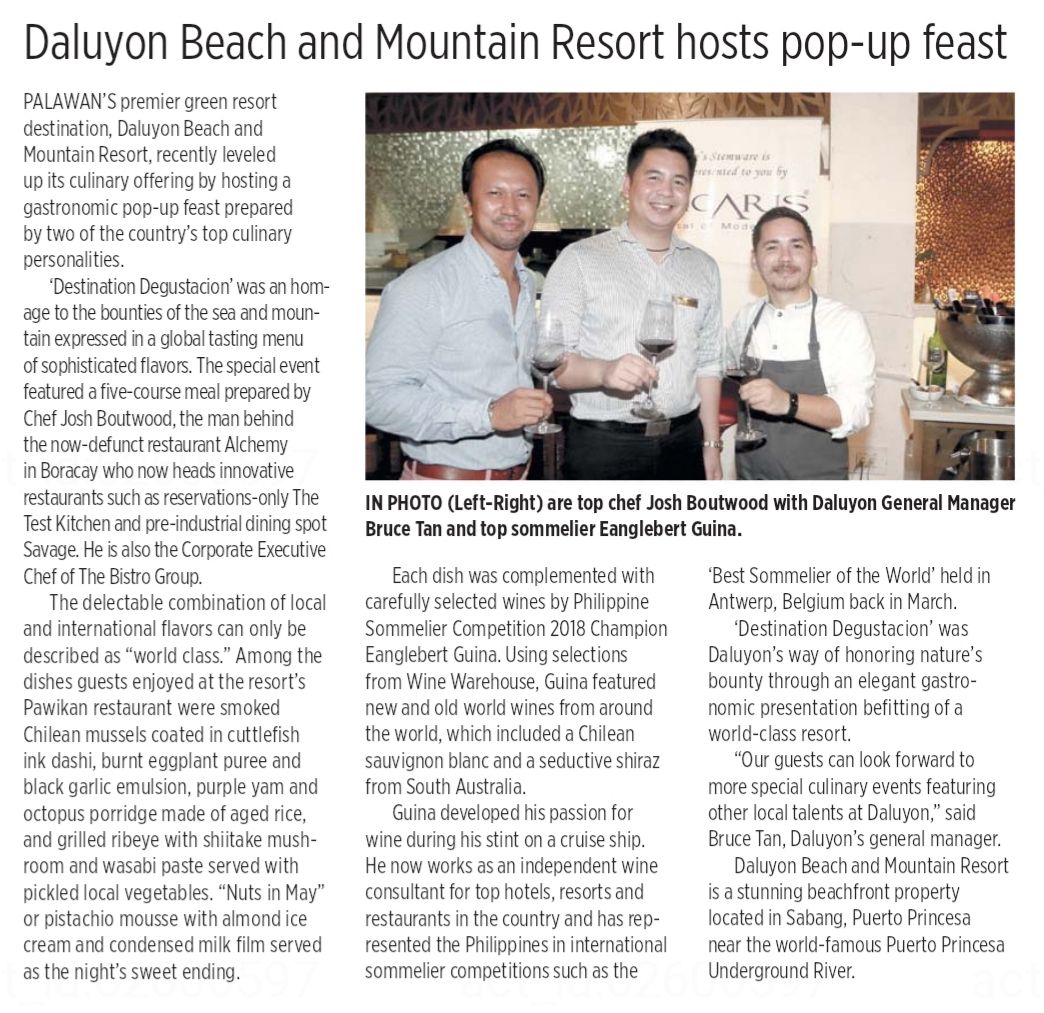 Palawan's premier green resort destination, Daluyon Beach and Mountain Resort, recently leveled up its culinary offering by hosting a gastronomic pop-up feast featuring two of the country's top culinary personalities.
'Destination Degustacion' is an homage to the bounties of the sea and mountain expressed in a global tasting menu of sophisticated flavors. The special event features a five-course meal prepared by Chef Josh Boutwood, the man behind the now-defunct restaurant Alchemy in Boracay who now heads innovative restaurants such as reservations-only The Test Kitchen and pre-industrial dining spot Savage. He is also the Corporate Executive Chef of The Bistro Group.
The delectable combination of local and international flavors can only be described as "world class." Among the dishes guests will enjoy at the resort's Pawikan restaurant are smoked Chilean mussels coated in cuttlefish ink dashi, burnt eggplant puree and black garlic emulsion, purple yam and octopus porridge made of aged rice, and grilled ribeye with shiitake mushroom and wasabi paste served with pickled local vegetables. "Nuts in May" or pistachio mousse with almond ice cream and condensed milk film will serve as the night's sweet ending. 
Each dish is complemented with carefully selected wines by Philippine Sommelier Competition 2018 Champion Eanglebert Guina. Using selections from Wine Warehouse, Guina will feature new and old world wines from around the world, which includes a Chilean sauvignon blanc and a seductive shiraz from South Australia.
Guina developed his passion for wine during his stint on a cruise ship. He now works as an independent wine consultant for top hotels, resorts and restaurants in the country and has represented the Philippines in international sommelier competitions such as the 'Best Sommelier of the World' held in Antwerp, Belgium back in March.  
'Destination Degustacion' is Daluyon's way of honoring nature's bounty through an elegant gastronomic presentation befitting of a world-class resort.
"Our guests can look forward to more special culinary events featuring other local talents at Daluyon," said Bruce Tan, Daluyon's general manager. Daluyon Beach and Mountain Resort is a stunning beachfront property located in Sabang, Puerto Princesa near the world-famous Puerto Princesa Underground River .